"School Brewery Project"
Brewing sake at the elementary school where sunset is the most beautiful in Japan
●Introduction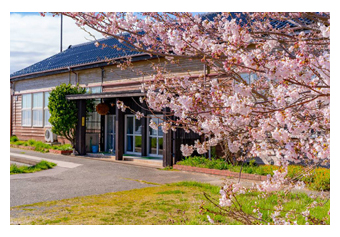 The biggest island in Japan, Sado Island. On the small hill where can overlook both wings of this island and Mano Bay, there is a place call "School Brewery". It was Nishimikawa Elementary School that said to be "the elementary school where sunset is the most beautiful in Japan" but was abolished in 2010. In 2014, OBATA SHUZO started the "School Brewery Project" to make this place reborn for sake brewing. Centered on "Sake Brewing", four main business "Learning", "Interaction", and "Environment" are started here. The goal is to produce the sake which can only brew in Sado. Then, thorough sake brewing to prosper this area even after 100 years.
●The History of OBATA SHUZO
The sake "Manotsuru" has been brewed in OBATA SHUZO since it established in 1892.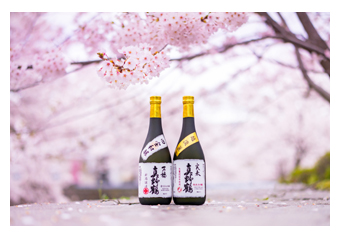 During October to March, the sake brewing period, all the brewers stay and live in the brewery which is tradition for sake brewing but become unusual nowadays.
"Harmonized brewing with four treasures" is the motto for our sake brewing. In addition to the three important factors for sake brewing: rice, water, and people, the production area "Sado" has been added to express the idea "harmonize the four treasures for sake brewing."
First is the "rice." In order to maintain the living environment for Japanese crested ibis, our rice cultivation reduces the use of pesticide and chemical fertilizer. Sado AIDA RICE Farming, our contract farmhouse, cultivates sake rice according to the "Toki Brand" rice certification system which all criteria are strictly regulated.
Furthermore, oyster shell, the special product of Sado, has been used for "oyster shell farming method" which makes water rich in mineral for raising healthy rice. The "water" use for sake brewing is the snow melting water from Small Sado Mountains. Because of the soft water, we make soft texture sake. Our sake brewing "People" are young people that chief brewer is in his 40's and other brewers are in their 20's~30's. We took many challenge on sake brewing such as introducing new sake rice and yeast, bringing in pasteurizer (bottle heat machine), membrane degasifier, and so on to improve the quality.
The fourth factor "Sado" is an island that symbolized by Japanese crested ibis and rich of nature. Because it is an island that surrounded by the sea, Nobel Culture, Edo Culture, and Kamigata Culture has combined here to be its own culture. The area is about 1.4 times of Tokyo's 23 distinct, and the population is less than 60,000. It is said that the natural environment and also culture are "microcosm of Japan" in Sado.
At the same time, it is also an island that facing the same issues happening in Japan such as a declining birthrate, aging population, population decline, industrial decline, and so on.
To aim at brewing the unique sake in this island, Sado, we started a new project in 2014. And, it is "School Brewery Project."
●The Reborn of Abolished School as Sake Brewery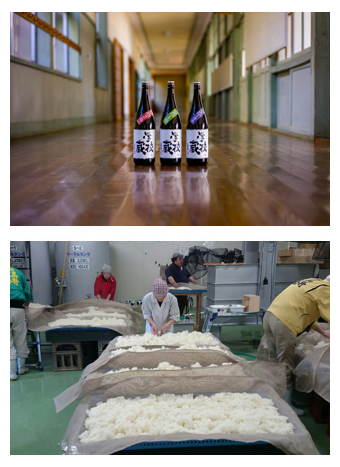 Nishimikawa Elementary School was declared as"the elementary school where sunset is the most beautiful in Japan." However, it cannot resist the wave of declining birthrate that abolished in 2010. And, it is the stage of our project.
As the time this school decided to be abolished, the sake industry was keeping in recession for a long time. However, when we saw the endless beautiful sky and the best sunset in Japan sitting into the sea, there suddenly appear a voice said "We must do it!" We would like to keep this place! And then we decide to make this abolished schoolhouse reborn as sake brewery.
Prepared for 4 years after the school been abolished, we started "School Brewery Project" in May 2014. We basically brew small lot of sake here in the summer period. (due to the license issue, sake is labeled as liqueur.) All of the material is from Sado.
We brewed 2 tanks in the first year, 4 tanks from the next year to 2016, and plan to increase the quantity gradually in the future. Here in the school, we centered on "Sake Brewing", to proceed on four projects "Learning", "Environment", and "Interaction."
For "learning," we hold a curriculum for people who want to study sake brewing. One team brew one tank of sake during a period about 1 week. It is quite a long period that people can learn about sake brewing while they go to school. At the same time, they can also get acquainted with the production area – Sado in their free time. We also expect core evangelist for sake brewing and Sado can appear by this kind of long stay.
The next is "environment." In order to aim at brewing sake that all made in Sado, we decided the energy to brew sake also need to be from Sado. From this concept, we introduced solar panels to utilize the solar power in Sado for sake brewing. This approach is a joint research with the University of Tokyo Integrated Research System for Sustainability Science (IR3S), and also plan to monitor the regional internal circulation of energy in the future. It is also a major purpose to "visualize" the natural environment of Sado, where Japanese crested ibis flying, through sake.
"Interaction." In school brewery, we collaborate with Shibaura Institute of Technology for manufacturing collaboration and the Kodo Earth Celebration tour in Sado. In addition, we also interact with many organizations such as accept the visit from high-school students, study tour form private companies, and so on. School is a place where gathering people and making people interact with each other. The one-day limited workshop "Special Lecture of School Brewery" which hold every June is the event that can show the true value of school.
●"Special Lecture of School Brewery" to Change the Future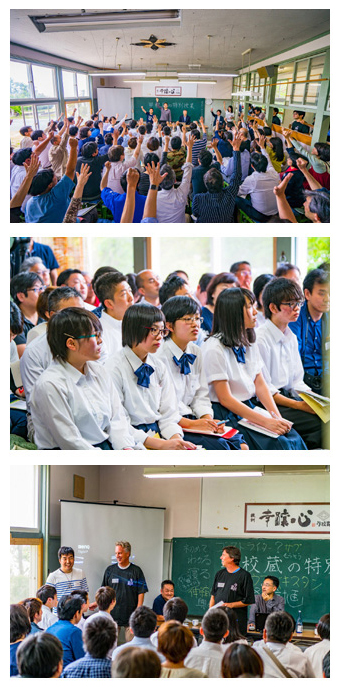 "Special Lecture of School Brewery" is a workshop that hold once a year, every June.
We invite external experts as teachers and gather people from in-and-outside of the island, various generations, people with different aspects to study in a lecture style. The big topic is "Think though Sado to the future of island country Japan." Sado as a microcosm of Japan, when we think about the solution for Sado, we can think about how to apply it in various area in Japan. And it is the reason why we choose this topic.
In 2014, the first year, we invited Mr. Kosuke Motani (Chief researcher of the Japan Research Institute, Limited. Publication: "The identity of deflation(デフレの正体)", "Satoyama Capitalism (里山資本主義)", and so on) as main speaker, and other young social entrepreneurs as speakers and teachers. There were about 40 participants from Sado island and outside. The enthusiastic lecture received lots of favorable comment.
In 2015, the second year, in addition to Mr. Kosuke Motani, we invited Mr. Yuji Genda(Professor of Institute of Social Science, the University of Tokyo. Famous research topic: NEET (Not in Education, Employment or Training), Social Sciences of Hope) as a teacher to hold the lecture about "Island and diversity", "The hope of local area."
There were 80 participants. From this year, senior high school students in Sado were able to attend and the lecture started to be more interactive.
In 2016, the third year, Mr. Kosuke Motani, Mr. Yuji Genda, and Mr. Haruaki Deguchi (the President and CEO of Lifenet Insurance Company) were standing in the podium, talking about the topic "Connect with the world" and "Entrepreneurship in local area." Senior high school students in Sado not only attended the workshop but also made group presentation about "the Future of Sado from Our Point of View."
Furthermore, there were more active interaction events such as three actual entrepreneurs in Sado had made a 3-minute speech per person.
There were two students from America as special guests to participate this workshop. Actually, they are our agent in America, came to School Brewery for learning sake brewing and arranged their schedule to attend the special lecture. We would like to have the opportunity to interact with young people in this island. For young people who live in the local area, the world seems to be far that not able to reach. However, the truth is the world is not far, and just beside us. We would like them to have the actual feeling that to be able to connect to the world no matter where they are.
There were about 100 participants to attend the third workshop. From senior high school student to 73-year-old person. From different area, such as Sado, Niigata, Tokyo, Wakayama, Aomori, and the America We gathered various people as students such as senior high school students, local people, media, professors in university, executives from big companies in the wooden classroom to discuss about one single topic.
When we hold this lecture, we feel many small chemical reactions occurs. The chemical reaction is that we aware and change our idea. Once our idea changes, we will change our action. Although people claim that the local area is keeping decline; however, it is the future forecast that "if we keep current status." If we change our action, the future forecast will also change. In that sense, the special lecture in School Brewery is a "special lecture to change the future."
The motto of School Brewery is "KONJYOSHIN (幸醸心)" We would like to make it being the place to raise the heart for brewing lucky.
●Conclusion〜 Sake Brewing for Region Building
Sake is the storyteller of our hometown. Sado brews the sake, and sake talks about Sado. For us who brew sake for more than centuries, it is only when this area is active, we can keep brewing sake even after 100 years. As we brew sake, we are also building this region.
*平成28年の特別授業は、(公財)日本離島センターの離島人材育成基金助成事業による助成を受けています。