MANOTSURU STORY
Niigata is known as "JIZAKE KINGDOM".
Niigata prefec'"ure is well-known as "JIZAKE KINGDOM".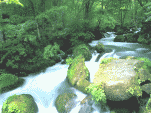 "JIZAKE" is the sake which is made in local area and in small amount. So usually JIZAKE is consumed only in the area around its brewery. Many Japanese sake fans love JIZAKE because of its quality , character and history.
Niigata is named "JIZAKE KINGDOM" because there are so many small breweries which makes good quality sake.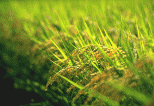 OBATA SHUZO is located on Sado Island in Niigata. Starting with pure, high quality groundwater, and world-famous rice, Sado Island has become known as an excellent place to produce sake.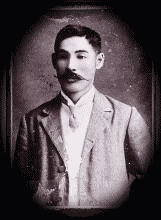 Since Manotsuru's founder Yososaku Obata had estblished OBATA SHUZO in 1885, we have been using the traditional hand-made methods for more than a hundred years, with great appreciation for the abundant nature that surrounds us on Sado.
ŠThe founder Yososaku Obata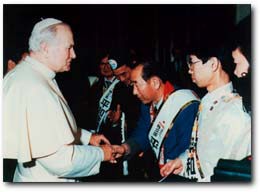 The present owner, Shunichi Obata begun to open the brewery to the public in 1983.
In 1987, he visited the Vatican City .
ŠThe Pope and Shunichi Obata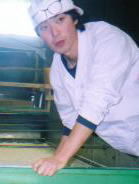 Our Toji,Kenya Kudo, is not only young but also very experienced brewer.
After graduating the Iwate University, he have been working at OBATA SHUZO for three years. Then he moved to Iwate prefecture as a brew-master. During his carrier in Iwate, he won the gold medal of The Mond Selection every year.
Kenya Kudo has been a toji of OBATA SHUZO from 2000.

ŠKen-ya Kudo